Careers and LLW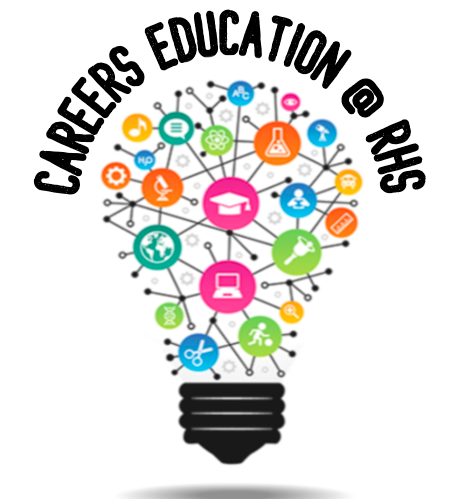 C A R E E R S
Co-ordinator: Mrs L Annett
Staff involved: Ms S Groves, Mr P Robinson and Mr J Percy
Careers Education, Information, Advice and Guidance at Rathfriland High School
Given the ever-changing world of employment trends and the unpredictable nature of the economic climate, it is increasingly important to ensure that all young people are equipped with the essential employability skills to manage their learning pathways and associated transitions. Rathfriland High School works closely with the other members of the Banbridge Area Learning Community to deliver a high quality CEIAG programme to suit the needs of our pupils.
Rathfriland High School aims to facilitate pupils to develop the skills and confidence to make the most of their life choices and follow the career path that suits them best. Preparation for steps beyond Rathfriland High School is important and an understanding of the world of work is facilitated at each Key Stage. The school works in partnership with a number of external agencies to ensure that pupils are exposed to various experiences of work and engage in a range of skills development opportunities.
Curricular Provision
Year 8 & 9
Careers provision is embedded within the Employability strand of LLW which is delivered to Year 8 and Year 9. Pupils will investigate the skills and capabilities necessary for employability including communication, numeracy, Information and Communications Technology (ICT), working with others, problem solving, decision making, self-management and managing information.
Year 10, 11 & 12
Discreet Careers lessons are timetabled for Years 10, 11 and 12 at Rathfriland High School. Within these sessions pupils will explore KS4 study options, personal profiling, matching skills sets to jobs, CV and application form writing as well as interview skills.
All pupils have access to careers related computer programs e.g. Xello.
Careers Guidance Interviews for Transition Years
Each of our Year 10 & Year 12 pupil receives a Careers Guidance Interview with Mr Conrad Topping from Northern Ireland Careers Service.
RHS pupils will have the opportunity to:
Explore which careers are linked to their areas of interest
Discuss their aspirations
Seek guidance regarding subject choices
Assess their transferable skills and qualities
Recognise the skills they need to develop
Mr Topping will never explicitly tell a pupil what they should or should not pursue as a career. He will engage with pupils and provide impartial, professional guidance to ensure pupils make informed choices with regards to KS4 subjects and life after RHS. Pupils are encouraged to take responsibility for their own future by carrying out individual research and keeping abreast of changes in courses and entry requirements. This is an important skill that our pupils continue to use after they leave school. Careers Education and Guidance is about preparing pupils for what comes next and encouraging them to take their place in the modern world.
Work Experience
Year 12 pupils are provided with the invaluable opportunity to undertake a week of Work Experience. This affords insight and understanding into real-life working environments and can help secure or even redirect a pupil's plan for their lives post Rathfriland High School. To gain the most from Work Experience, a significant amount of preparation work is done in class to ready pupils and to subsequently to reflect upon it afterwards. Pupils will regularly be informed about virtual work experiences which can be undertaken by interested pupils in their own time.
Interview Skills
It is hoped that we will be able to develop an Interview Skills day and subsequent Interview Simulation Session for Year 12 pupils prior to any individual interviews for sixth form, apprenticeship, FE College or jobs.
Other Online Careers Information
| | |
| --- | --- |
| | Includes comprehensive careers information on over 750 job profiles , regional job market information, career tools such as CV builders and access to careers advisers |
| | Inspirational video clips of people who have experience of working in a variety of jobs |
| | Short films and current news articles covering a wide range of careers. An interactive careers inspiration website containing over 700 different career profiles |
| | A comprehensive guide to careers, education and student life including a useful student calculator to help budget for university |
GCSE (CCEA) Learning for Life and Work...
Learning for Life and Work: Modular – five units in total (two controlled assessment tasks/reports and three modular examinations – one for each of the three areas of content).
Through studying this specification, students gain knowledge and understanding of:
diversity, social inclusion, rights and responsibilities;
the role of government and non-governmental organisations in protecting people's rights;
democratic institutions and processes;
how to maximise physical and mental health and well-being;
relationships and sexuality;
how to be a discerning consumer;
the impact of globalisation on employment;
recruitment and selection procedures;
self-employment;
the work environment; and
the social responsibility of businesses.
This course provides students with the skills they require to think independently, make informed decisions, and take appropriate action when faced with personal, social, economic and employment issues.
The course is divided into three areas of study:
Local and Global Citizenship;
Personal Development; and
Employability.
The content of each area is outlined in more detail below:
Local and Global Citizenship
Diversity and inclusion in Northern Ireland and the wider world
Rights and social responsibilities, in relation to local, national and global issues
The role of society and government in safeguarding rights
Non-governmental organisations
Key democratic institutions and their role in promoting inclusion, justice and democracy
Understanding how to participate in a range of democratic processes
Personal Development
Understanding how to maximise and sustain health and well-being
Concept of self, managing emotions and reactions
Recognising, assessing and managing risk
Understanding relationships and sexuality, and the responsibilities of healthy relationships
Understanding the roles and responsibilities of parenting
Developing further competence as discerning consumers in preparation for independent living
Employability
The impact of globalisation on employment
Recruitment and selection procedures, taking into account the rights and responsibilities of employees and employers
Self-employment and relevant sources of support
Maintaining an effective working environment
Investigating the increasing social responsibility of business in the community.
External Assessment
The assessment for this course is staged over two years
| Component | Weighting | When? |
| --- | --- | --- |
| Local and Global Citizenship exam | 13.3% | May of Year 11 |
| Report 1 | 30% | May of Year 11 |
| Personal Development exam | 13.3% | January of Year 12 |
| Report 2 | 30 % | May of Year 12 |
| Learning For Work exam | 13.3% | May of Year 12 |