Scripture Union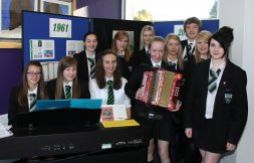 The Scripture Union group at Rathfriland High meet most Wednesday lunchtimes in the Home Economics room. When we meet we share some food, play games and listen to exciting speakers from all over Northern Ireland as well as the SU teachers. Around 50 pupils attend SU regularly from Year 8-12 and they are a great bunch.
The Scripture Union is ran by 4 teachers Mrs Gough, Mrs Hawthorne, Mrs Wallace and Mrs Somerville.
This year we hosted our first Community Coffee Morning on Saturday 13th October and this was a great success with parents and local churches helping us raise £795 towards our mission. We really appreciate the prayerfully and financial support from all of those who attended.
From Tuesday 6th November- Friday 9th November we had a fantastic week at our third annual Rathfriland High Scripture Union Mission!
In conjunction with a team from Crown Jesus Ministries we ran three lunchtime events and a youth event in the Community Centre on Friday evening.
On Tuesday lunchtime we were entertained by DJ Kyle who with our help created a Rathfriland High Dub step track featuring Mr Richardson on vocals.
On Wednesday Richard Barnett a drift car racer shared of his experiences in racing and even challenged some pupils to change a wheel. He also brought his drift car with him to show the pupils.
On Thursday we were impressed by the strength of bodybuilder Glen who holds a Guinness World Record for pushing a person around Northern Ireland in a wheelbarrow! He demonstrated his skills with Miss Morrison in the wheel barrow and then challenged some of the boys to do pull ups!
Our week concluded with a fantastic night in the community centre. Around 130 pupils attended and it featured Mr Annett being gunged, music videos made by 2 groups of pupils and poor James Boyd being picked on when the Crown Jesus team raided his bedroom! The 1way band played some great music and Dee from Crown Jesus gave a powerful message. It was a great night with much fun and laughter but also a night where many pupils recommitted their lives to God.
The SU staff would like to thank all those churches, staff and parents who supported and prayed for the mission.