Uniform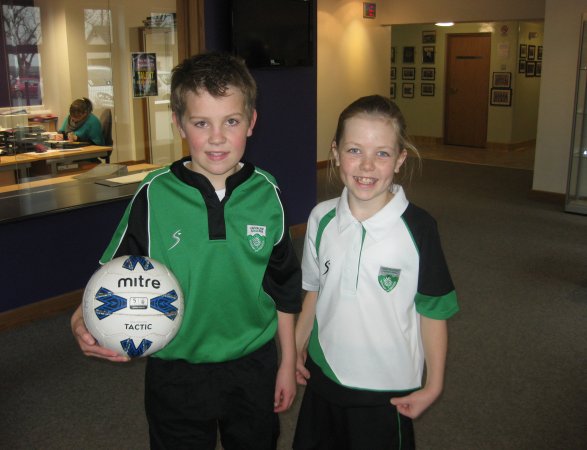 Wearing Uniform
The wearing of school uniform is compulsory and develops equality of self-esteem whilst assisting in the promotion of good order and discipline.
School Rules
Jewellery - Girls may wear one stud in the lobe of each ear. In the interests of Health/Hygiene & Safety, dangling earrings are not permitted. Nose and brow piercing are forbidden and boys are not permitted to wear earrings.
Make-up and nail varnish must not be worn.
Hair style and general appearance should be of a standard traditionally acceptable to the school.
Girls must wear regulation school skirts. These must not be altered – shortened, taken in etc.
Girls must wear flat heeled black shoes.
Suppliers
Uniforms can be purchased from local outlets in Rathfriland, Banbridge and Newry. School badges for blazers and jumpers are available from the school. PE Uniform may be purchased from Donaghys Shoes Banbridge.
Clothing Grant
The Southern Education & Library Board is prepared to give assistance with the purchase of school uniform to those parents who are eligible. Forms are available from the school office.
It is very important that all articles are clearly marked with pupil's name in indelible ink.
Outdoor Wear
Please note that coats should be worn over school blazers and they should be BLACK and not have large or coloured logos emblazoned on them.
Scarves worn to school should also be either the School Scarf (purchased from the Main School Office) or black.
Uniform List
| | | | |
| --- | --- | --- | --- |
| Girls | Girls PE Uniform | Boys | Boys PE Uniform |
| Blazer - Black blazer & school badge | Blouse - School PE shirt | Blazer - Black blazer & school badge | Shirt - School rugby shirt |
| Skirt - Black skirt with double inverted pleats | Skort - School skort | Trousers - Black trousers | Shorts - Black shorts |
| Shirt - White long-sleeved blouse | Socks - Black socks / white ankle socks | Shirt - White long-sleeved shirt | Socks - Emerald green hooped socks |
| Tie - School tie or prefect tie | Shoes - Gym shoes | Tie - School tie or prefect tie | Shoes - Gym shoes |
| Jumper - Black v neck jumper (optional) | | Jumper - Black v neck jumper (optional) | Boots - Football boots |
| Shoes - Black shoes, low heeled | | Shoes - Black shoes | |
| Socks or Tights - Black knee socks or black tights | | Socks - Black socks | |
| Coat - Plain black coat | | Coat - Plain black coat | |
| Scarf - School scarf or plain black | | | |