Technology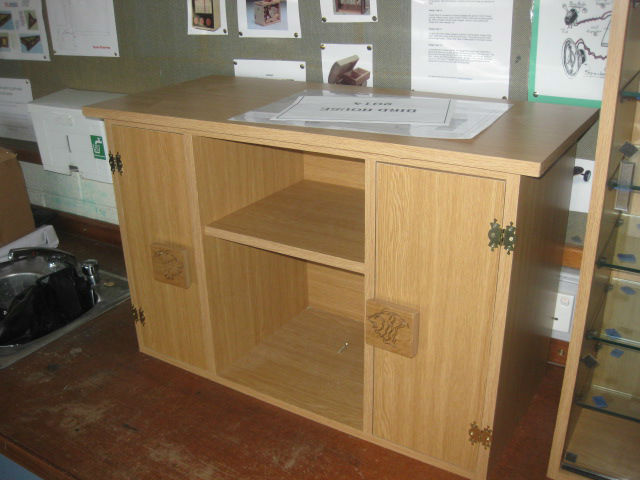 Subject Teacher: Mr D Ross
The Year 8 experience
It's likely this will be the first time an 11-year-old has been in a manufacturing environment.
During Key Stage 2 they will have had many opportunities to enter the design world but limited means to manufacture their creation to a high standard. So much to their excitement, this will be their chance to see their designs come to life as a working product. But an enjoyable learning experience does never come at the cost of safety. A great emphasis is placed on personal and group safety during technology sessions, especially during the first term of year 8.
It is my goal that year 8 will have both an enjoyable and safe experience. To achieve this I have developed unique units of work that I find pupils enjoy and respond to positively.
Unit 1 – The key fob project. Pupils design and manufacture a key fob which they can attach to a bunch of keys.
In this project pupils mark out, cut, file, drill, glue, rub down and polish their final piece to a high standard.
They then represent the product as an orthographic projection. As with any project a manufacturing plan is produced and the product evaluated after manufacture. Finally pupils use a basic graphics software package to represent their design using ICT.
Unit 2 - The jitterbug project introduces the concept of recycling old products into new ones.
A scratched or unwanted CD acts as a platform which pupils mount the component parts of a robot. Then, using all their creative know-how, pupils manufacture their own novelty robots, using an eccentric cam to create vibration.
This project is an excellent vehicle for learning about product assembly. As background to the popular project, pupils are asked to study an exploded drawing, similar to that which would accompany a set of instructions for a barbeque from B&Q or a flat-packed product from IKEA. Major emphasis is placed on basic drawing skills during this unit.
Unit 3 - Mobile phone holder - Who do I want to be?
In this unit pupils have the opportunity to discover how the skills developed by Technology and Design would be useful to an entrepreneur. They will have the opportunity to examine how a design can be developed into a saleable product and how individuals can use their skills and talents to set up a mini-company.
Also within this category, pupils will explore the need for sustainable energy choices - especially in the area of transport. Pupils are given a problem to solve in terms of a design brief. Their design project will be one positive step towards an improved environment.
Technology and Design for Year 9
The Year 9 experience
Unit 1 - Aroma Fan
Pupils manufacture an Aroma Fan which incorporates a basic sensing circuit. An Aroma fan is an intricate device which fragrances a room.
The device is activated when a piezo sensor is pressed. The design is quite elegant and is made from Obeche wood which facilitates a beautiful finish. After pressing a small piezo sensor a motor, unto which a fan is mounted, is activated for a period of around one minute.
Air is drawn into the base of the product, through some pourpori and out at the top and up into the room. This is quite a challenging task as pupils are required to assemble a very intricate PCB (Printed Circuit Board) using the process of soldering. This unit of work lends itself quite readily to cross curricular links, for this project Art and Design create and produce the packaging for the product.
This unit lets pupils respond to a design challenge and highlights the work involved from the design process, through to manufacturing and packaging. The product is then taken home as a gift.
Unit 2 – Steady Hand Game
Ready, Steady, Go! Hours of entertainment or torture, you decide. The steady hand game offers pupils the opportunity to solve a design problem from their own lives – boredom. This very engaging project isn't just fun - it is designed to help pupils with their hand/eye coordination.
Technology and Design Year 10
The Year 10 experience
Unit 1 - Dual Motion Buggy
This project is an educational toy designed for the 5 to 7 age group. It provides an excellent opportunity to learn all about mechanisms in the world around us. It simply converts one form of motion (rotary) into another (reciprocating) using a cam and follower. As this project is best served with accuracy it is fitting that it is the final practical-based activity before a pupil commences their GSCE Technology and Design course.
If a pupil can manufacture this project to a high standard, then it can be used to help a pupil make an informed decision whether he/she is competent for a GCSE in this subject.
Unit 2 - MP3/IPod Player
This fun and exciting project appeals to a wide range of pupils as most young people are familiar with modern music technology. The pupils build a sound box with wood and plastic then fit their manufactured circuit inside. It is intended that pupils get an opportunity to use CAM (Computer-Aided Manufacture) to produce the front face of their boogie box.
Unit 3 - Programming
When entering this stage in the learning process, pupils are given the opportunity to use programming software to solve dilemmas that athletes face when training.