Pastoral Structure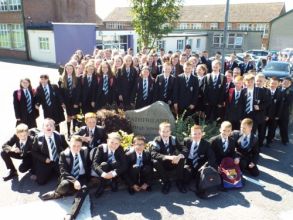 Year Tutors 2020 - 2021
Year 8 - Mr P Robinson
Year 9 - Mrs D Wilson-Elias
Year 10 - Mrs D Wilson-Elias
Year 11 - Mr D Barron
Year 12 - Mrs R Chalmers
Senior Teacher in charge Pastoral: Mr D Barron
Parents with concerns regarding their child's welfare or progress should first make contact with the Year Tutor and then the Senior Teacher. If concerns continue then contact the Vice Principal who may inform the Principal if further action is needed.
Pastoral Care
Form Teachers and Year Tutors
During time with Year Tutors and Form Teachers school rules are highlighted, the reasons behind them explained and why they are important in contributing to an ordered and safe school community. Academic progress, Merit Awards, Attendance, Behaviour and Uniform are also monitored.
Rathfriland High School adopts a positive approach to behaviour, expecting pupils to behave in a responsible manner both to themselves and by showing consideration, courtesy and respect for other people. This standard of behaviour is expected from all pupils at all times, both inside the school as well as on their way to and from school.
School Counsellor
The pastoral guidance given by Year Tutors, the Senior Teachers and the Vice Principal is supported by the School Counsellor. The Counsellor is fully qualified and is in school one day a week.